Electric Vehicle Charging
The ChargePoint CT4000 Series gives station owners a more affordable, customizable and convenient way to help drivers make the switch to electric.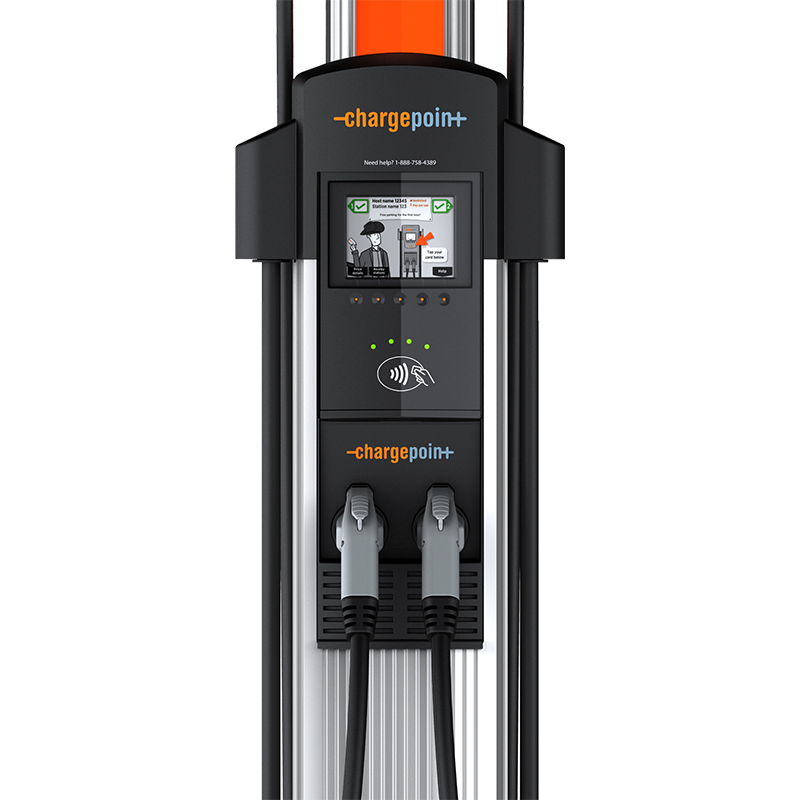 Research has shown that most electric vehicle owners are highly educated, own their own homes, and have a household income of $150,000 or more. 
Installing an EV charging station in your organization's parking lot will help build a loyal base of these highly desirable customers and show your business' commitment to the environment.
Benefits of the ChargePoint CT4000 Series include:
Reduces installation and incremental costs by allowing for greater charge spot capacity
Self-retracting, maintenance free, ultra lightweight cord management system
Cloud-based services manage charging operations including access and notifications
Option to make station location and real-time availability visible to drivers on the web via the ChargePoint app and on navigation units in top-selling EVs
Interactive touch-button system performs in all weather conditions
Customizable signage and branding, and a color LCD screen that allows station owners to run their own video content
Ability to initiate charging from a smart phone with the ChargePoint mobile app or a ChargePoint card
24/7 customer support for drivers and business hour support for station owners
AEI has been serving the Hawaii business community for more than 30 years. Use a reliable company you know and trust.

Financing Options
Through partnerships with Central Pacific Bank and Hawaii State Federal Credit Union, AEI is proud to offer competitive financing options for split A/C, Solar Water Heating, and PV customers.
Learn More
The AEI Difference
Alternate Energy, Inc., has been serving families in Hawaii for more than 30 years. We believe in the customer, the community and the 'aina. 
Learn More
Get the complete energy package.

products

Photovoltaic

Save on monthly electric bills and show your organization's commitment to protecting the environment.

LEARN MORE

products

Energy Efficient Air Conditioning

Mitsubishi Split Ductless AC systems are up to 40% more efficient than traditional HVAC systems.

LEARN MORE

products

Solar Water Heating

In Hawaii, 40% of the average family's electric bill goes toward heating water.

LEARN MORE