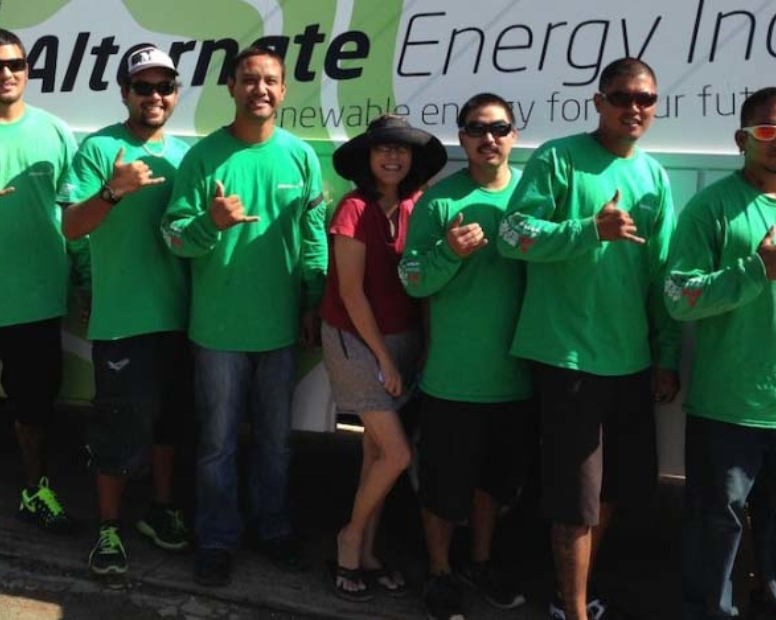 Dec 22, 2017
Honolulu Aunty
After years of thinking about it, Uncle decided that it was time for solar panels for our home. The timing was great – our electrical bill was edging up to $400/month, solar companies' prices had come down and systems were much more efficient, needing less panels and less wall space for the controls.
After getting a few quotes from other companies, we settled on Alternate Energy. David Thompson was our point of contact, and he was excellent. Answered all of our questions with accuracy, gave options, filed all the necessary papers, arranged inspections and even gave us an anniversary discount. We signed papers at the end of December, and on the 1st week of January, our system was installed!
Our neighbor was amazed – he had signed up for his solar system months ago with another company and they still have yet to have it installed. Unfortunately he had already put down his deposit and signed a contract, so he has to continue to wait (and is still waiting for almost a year).
Alternate Energy is an electrical contracting company, and most of their business is from installing solar panel systems. The crew was impressive. Very polite, very attentive to details, very nice young men who took pride in their workmanship and the company they represented.
We were told that the grid for our area was already filled at 100%. That meant that we wouldn't get the super savings in our electrical bill until Hawaiian Electric approved and accepted our system. We still opted for it. Watching our electrical meter go backwards was a real thrill and Uncle said that we would soon see savings on our bill.
Sure enough, our following month's bill was about half of normal, and then, the next month's bill was only $27!!! Can we hear a KA-CHING?!! We will also get Federal and State tax credits, so even more KA-CHING!
Uncle gets all the credit for this great idea. He made so many calls, checked out several reviews, asked for recommendations, and really did choose the best system and the best company for our needs. He wanted just the right number of panels – not too many and not too few.  It is a 5.72kW Residential Photovoltaic System. We have 22 Mitsubishi panels with Solar Edge inverters that can be diagnosed on our own computers, with 100% efficiency. This system is such an improvement over the older systems and panels. We have a 25 year warranty on the panels, and 10 years parts and labor warranty from Alternate Energy. Our cost before tax credits was $24,616.10. Half down (using our Hawaiian Airlines mileage VISA) and half upon completion was a bit of a sting, but it made too much sense to go for it, and we did.
Spend now to save for the long term is a very good decision. Kudos to Uncle the Wise, and David Thompson of Alternate Energy!
David can be reached at (808) 554-5191 or via email at david@alternateenergyhawaii.com. Please tell him that Aunty sent you – we get referral income too!

PV Solar
Enjoy the benefits of photovoltaic solar electricity, like lower electric bills, state tax incentives, and energy independence.
Photovoltaic
More Testimonials / Case Studies

Photovoltaic

The Adams Family

The Adams Family worked with AEI representative Jeff Lum to purchase a 10-panel PV system.

While Mr. Adams looked into a few other solar companies, he ultimately decided to work with AEI because the company made things simple, convenient, and easy to understand. He was so happy with the installment and service that he recommended AEI to his parents.

The Adams Family's monthly bills went from $600/month to $200/month. He plans to install more panels in the future.

Adams Family, Waialua

LEARN MORE

Photovoltaic

The Benros Family

The Benros Family, a first time Alternate Energy customer, decided to purchase a PV system because they wanted to reduce their electric bills. 

AEI representative Dave Thompson showed them all of their options, walked them through how to get tax credits, and worked with them on the set up and installation. The Benros Family ultimately decided to hire AEI because their entire PV system is from Mitsubishi.

Overall, the Benros Family had a "great experience" and have referred four people to AEI since their system was installed.

Benros Family, Ewa Beach

LEARN MORE

Energy Efficient Air Conditioning

The Matsumoto Family

The Matsumoto Family, a first time Alternate Energy customer, worked with AEI representative Roy Skaggs to purchase an energy efficient air conditioner and compressor. Mr. Matsumoto wanted AC because it was so hot in the house.

Out of all of their options, AEI gave them the best possible quote for a quiet, energy efficient AC that included a HEPA filter. The installation was seamless and even with the AC running all day and night, the family's montly electric bill went down.

According to Mrs. Matsumoto, "Roy was very responsive. It's rare to find a sales rep that remembers you one year later. I didn't feel like I was speaking with a sales rep, it felt like I was speaking with a member of my family."'

Matsumoto Family, Kapolei

LEARN MORE