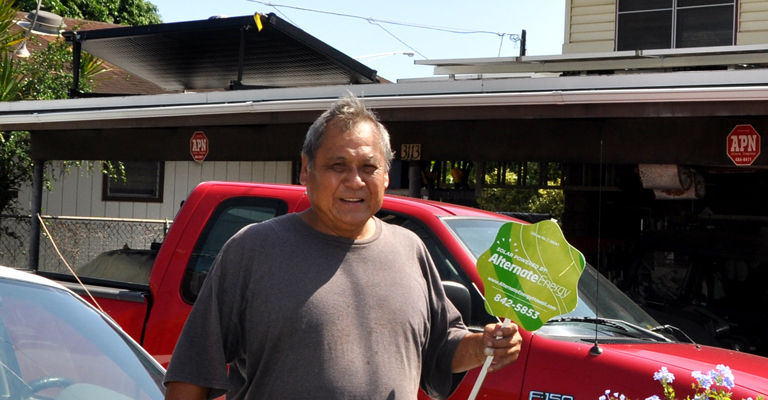 Dec 22, 2017
The Mizushima Family
The Mizushima Family, a first time Alternate Energy customer, worked with AEI representative Jeff Lum to purchase a solar water heater. After reaching out to a few other solar companies, Mr. Mazushima decided to work with AEI because the company provided him with a better quote and warranty. His previous solar water heater was more than 30 years old and needed to be replaced.
According to Mr. Mizushima, "The installation was quick--only one day--and everything is running really smooth...It would have been hard to beat you guys. Everything was superior all across the board--warranty, price, and service. It was kind of a no brainer for me."
Mr. Mizushima's brother and nephew have since purchased PV systems from AEI, and another brother purchased a double solar water heater. "We're like an Alternate Energy solar family," said Mr. Mizushima.
Mizushima Family, Kapahulu

Solar Water Heating
Utilize free energy from the sun and cut your monthly water heater energy costs by 50-80%.
Solar Water Heating
More Testimonials / Case Studies

Photovoltaic

The Adams Family

The Adams Family worked with AEI representative Jeff Lum to purchase a 10-panel PV system.

While Mr. Adams looked into a few other solar companies, he ultimately decided to work with AEI because the company made things simple, convenient, and easy to understand. He was so happy with the installment and service that he recommended AEI to his parents.

The Adams Family's monthly bills went from $600/month to $200/month. He plans to install more panels in the future.

Adams Family, Waialua

LEARN MORE

Photovoltaic

The Benros Family

The Benros Family, a first time Alternate Energy customer, decided to purchase a PV system because they wanted to reduce their electric bills. 

AEI representative Dave Thompson showed them all of their options, walked them through how to get tax credits, and worked with them on the set up and installation. The Benros Family ultimately decided to hire AEI because their entire PV system is from Mitsubishi.

Overall, the Benros Family had a "great experience" and have referred four people to AEI since their system was installed.

Benros Family, Ewa Beach

LEARN MORE

Energy Efficient Air Conditioning

The Matsumoto Family

The Matsumoto Family, a first time Alternate Energy customer, worked with AEI representative Roy Skaggs to purchase an energy efficient air conditioner and compressor. Mr. Matsumoto wanted AC because it was so hot in the house.

Out of all of their options, AEI gave them the best possible quote for a quiet, energy efficient AC that included a HEPA filter. The installation was seamless and even with the AC running all day and night, the family's montly electric bill went down.

According to Mrs. Matsumoto, "Roy was very responsive. It's rare to find a sales rep that remembers you one year later. I didn't feel like I was speaking with a sales rep, it felt like I was speaking with a member of my family."'

Matsumoto Family, Kapolei

LEARN MORE