Electrical Services
Let our in-house team of licensed electrical journeymen handle your next repair or renovation.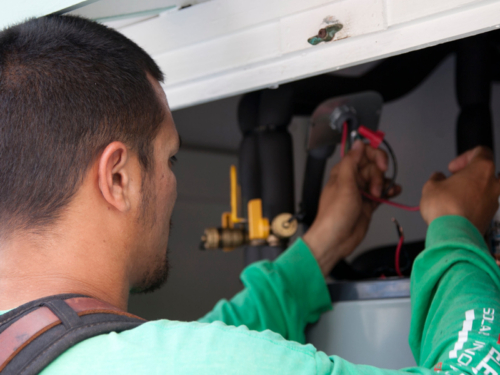 Alternate Energy, Inc. has been providing full-service electrical repairs and renovation services to residents of Oahu and Maui for more than 30 years.
Our team of licensed and state-certified electrical journeymen has passed rigorous testing, takes pride in a job well done, and provides high-quality service at a resonable cost. AEI holds the following licenses:
C-60 - Solar Power Systems Contractor
C-61- Solar Energy Systems Contractor
C-13 - Electrical Contractor
C-52 - Ventilating & Air Conditioning Contractor
AEI's electrical services for residential properties include:
Electrical repairs
New construction
Renovations
Rewiring
ENERGY STAR® heating, cooling, and air conditioning installations
Electric vehicle charging installations
ENERGY STAR® ceiling fan installations
Installation of outlets, lights, and switches
AEI's electrical division is led by Chris Schopen, Senior Project Manager of Operations. He has more than 20 years of electrical contracting experience and ensures all renovations and repairs are done safely and accurately.

Financing Options
Through partnerships with Central Pacific Bank and Hawaii State Federal Credit Union, AEI is proud to offer competitive financing options for split A/C, Solar Water Heating, and PV customers.
Learn More
Get the complete energy package.

products

Photovoltaic

You can claim up to 61% of your total photovoltaic system cost by utilizing State of Hawaii and federal tax credits.

LEARN MORE

products

PV + Storage Solutions

Capture excess power, store it onsite and have it delivered when you need it, without exporting to the grid.

LEARN MORE

products

Energy Efficient Air Conditioning

Mitsubishi Split Ductless AC systems are up to 40% more efficient than traditional HVAC systems.

LEARN MORE